Launching and christening shrimptrawler WR 40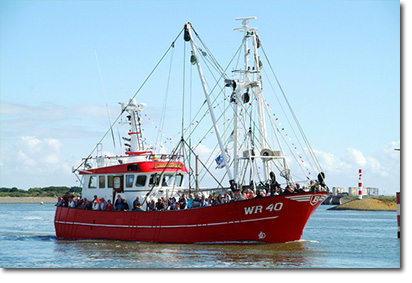 STAVOREN: A very special event. Obviously for the firm Boerendijk from Den Oever. But for Heijsman Shipbuilding & Repair in Stavoren, and certainly for the Dutch fishing in general. Last Tuesday in Stavoren the hull of the new WR 40 left and baptized by water; the only fishing vessel under construction in the Netherlands and the first fishing boat for Heijsman. ,, We have opted for quality, "says Gerard Boerendijk, as the 23-meter hull is driven by a truck Combex Transportation quite out of the shed, toward the tap of Wagenborg.,, And Heijsman also made a handsome piece of craftmanship ". This is also echoed by cartoonist Hernand Jansen, present with his whole team. ,, Looks very neat "Brother and co-owner Peter Boerendijk can not be there that sits at sea with the WR 20 of the firm;.. There must be still earned money ... His wife Regina filming everything for him.
If the 85-ton hull just hanging over the water in the barrels, Siep Heijsman gets a champagne bottle. The daughters Anna (Gerard) and Carol (Peter) the honor to baptize the ship, in "Anna Carol". They do this with a firm pitch, which does set the bottle splashing. Then the hull is really water. Then the ship is turned so that the next day the wheelhouse can be set up easily. Both the hull and the wheelhouse for the most part already furnished. Therefore it will not be long will be before the Boer Dikes can go fishing with their new acquisition. The special event is celebrated in the small cozy canteen Heijsman with coffee and pastries, sandwiches and soup. A very special event, also find Hernand Jansen. "But there are a few more in the pipeline.".
 Read what the media write about this project (dutch).
---